Alberta University of the Arts is hosting a Community Day event whereby locals can marvel at years of hard work from its multidisciplinary graduating class
Reviews and recommendations are unbiased and products are independently selected. Postmedia may earn an affiliate commission from purchases made through links on this page.
Article content
For the first time in three years, Alberta University of the Arts (AUArts) is swinging its doors open to the public for a firsthand look at its annual Grad Show. The exhibition's Community Day, on Saturday, May 28 from 2 to 5 pm, is a unique opportunity for locals to see the culmination of students' work across ceramics, design, glass, sculpture, painting, media arts and much more.
Article content
Due to the pandemic, the exhibition has been held virtually over the last two years—and will remain available for online viewing this year in tandem with Grad Show's opening on May 26.
Community Day will offer an in-person look at the impressive range of work resulting from a world-class institution known for its emphasis on studio time and small class sizes. Home to just 1,200 students, the purpose-built facility is one of only four universities specializing in art, craft and design across the country.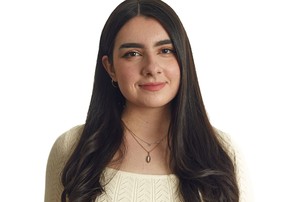 For School of Communication Design graduate Natalia Ionescu, Grad Show is a chance to synthesize what she's learned in four years of foundational visual-arts studies, research, critical studies and studio exploration.
Article content
The artist, who developed a whimsical signature drawing style while studying at AUArts, will be displaying "Life on the Danube Delta"—a large, vivid informational poster that incorporates digital illustration and text. It captures Romania's lush Danube river region under a glowing sunset, alive with little egrets, Eurasian otters and northern pike poking up from the river's surface.
"Romania is where I was born, so it was a nice way to learn about my country since I've been living in Canada for most of my life," Ionescu explains. "The program is very project-focused, and the skills you learn are very good preparation for assignments in the real world. From a design perspective, it's great to see our work printed out so nice and big—we're so used to seeing it on a screen."
Article content
The exhibit is a chance to check out the creations of emerging artists like Ionescu before they take their visions and ideas out into the world. Grads often end up working beyond visual arts, transferring their skills to a range of industries and businesses, with many becoming entrepreneurs in areas as diverse as photography, art therapy and UX or graphic design.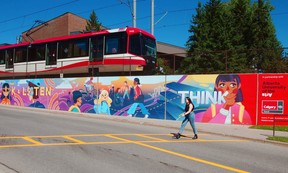 In Ionescu's case, career opportunities are already rolling in. Her profile was raised considerably in her third year at the university, when she designed a colorful mural outside the front entrance to AUArts in collaboration with Calgary Transit.
"It really prepares you from the beginning for the skills you need to get into more and more complex projects," Ionescu says of the university, which is nearing its 100th anniversary. "The first few foundation years are challenging, but it really pays off, because you have that muscle memory in your head."
To plan your visit to Grad Show 2022 Community Day on May 28, visit AUArts.ca/CommunityDay.
This story was created by Content WorksPostmedia's commercial content division, on behalf of Alberta University of the Arts.