One of the main skin concerns is acne scars, discoloration and blemishes. The NewLab's super-light BB cream also stands out as a serious acne fighter with its multitasking ability. The transparent shade spreads easily on the skin, so it can be applied even without a mirror. You can evenly spread it on your skin in seconds and get smooth and flawless results.
BB Cream that covers, moisturizes, treats and protects skin with acne and blemishes from the sun.
The NewLab BB Cream contains Niacinamide, which helps to fade acne and leave no scars. Thanks to the magic ingredient arbutin, it removes stains and prevents their formation. With its 30 SPF sun protection feature, it protects the skin against the harmful rays of the sun. While it provides a smooth appearance with its perfect coverage, it allows your skin to breathe thanks to its thin structure. It is recommended as a concealer, moisturizer and therapeutic for acne and blemished skin.
After cleansing your skin, apply a sufficient amount of cream to your face and neck by massaging. Wait until it is absorbed by the skin and say hello to your new shiny and glamorous skin.
Also, The NewLab BB Cream contains SPF 30 to make it excellent UV protection in summer. You can hide all discoloration, redness, spots and imperfections by creating a protective shield on your skin.
Effective sun protection with anti-blemish extracts
You've probably heard it over and over: Don't skip sunscreen if you want to prevent dark spots, sun damage, and signs of aging. The NewLab's broad spectrum Anti-Acne and Blemish SPF50+ sunscreen is high protection, water, sweat and sand resistant.
Its non-sticky, ultra-light texture is easy to apply. In addition to effective sun protection, the anti-spot formula, which limits the appearance of scars, protects and moisturizes the skin for up to 8 hours. It provides high protection against the harmful rays of the sun, especially for skin prone to acne formation.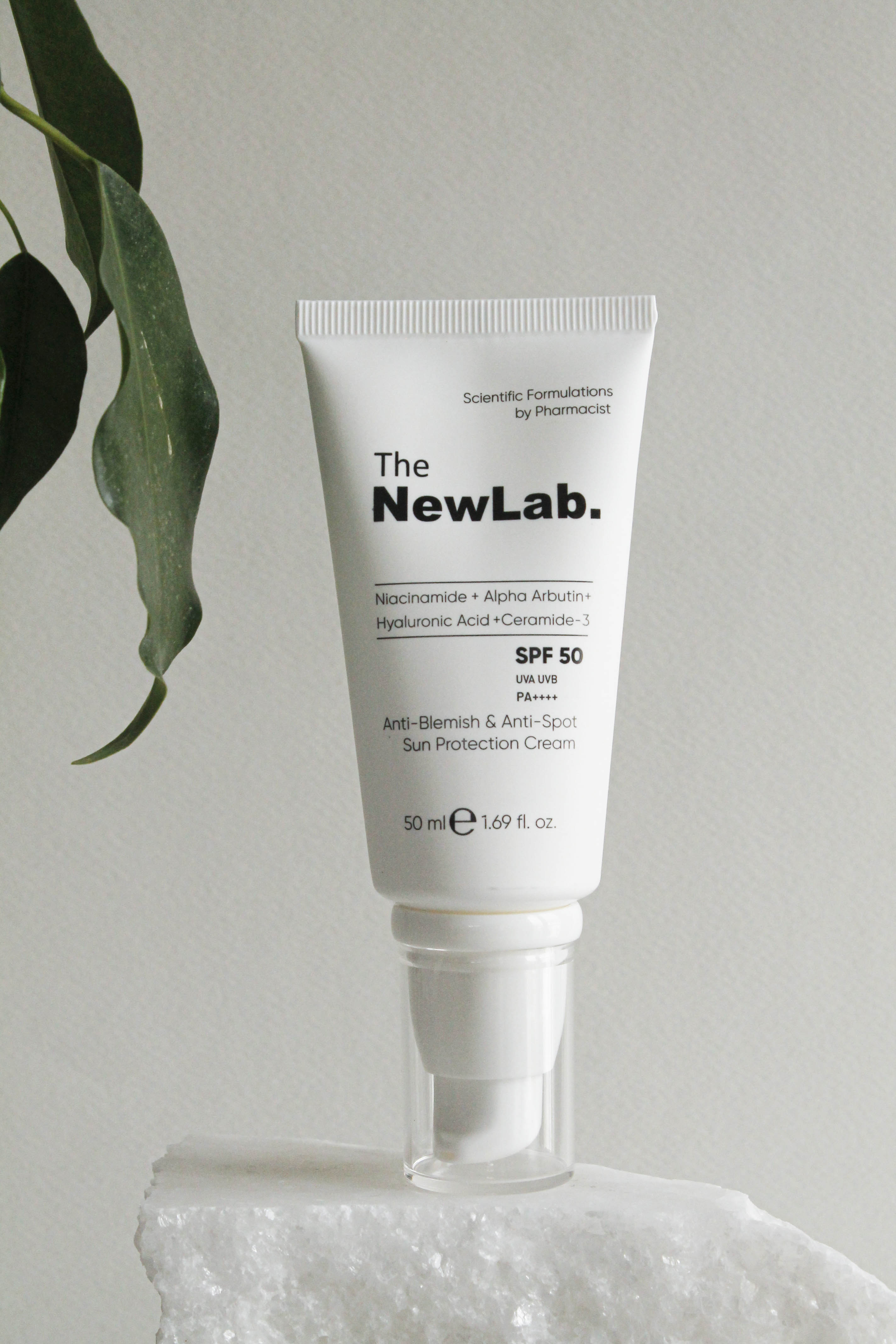 Alpha Arbutin in its formula; It is very effective against redness, sun, age and acne spots. It evens the skin tone and prevents the formation of new spots. With SPF 50+, it creates an excellent barrier against the sun's strong and intense rays. With Niacinamide, Ceramide and Hyaluronic Acid, which help the skin to retain moisture, it prevents, nourishes and moisturizes the sensitivity and redness caused by the sun.
Who can use it?
• People with acne-prone skin or acne scars
• People with dark skin patches
(Pregnancy spots, sun spots, acne spots, age spots)
• People whose skin tone needs to be equalized
• People with hyperpigmentation problem
• People with lifeless and dull skin
• People who need moisture in their skin
How to use?
Apply a sufficient amount of the product to your face 20 minutes before going out into the sun. Renew every 2 hours if you stay in the sun for a long time.