Mehmet Korkmaz, who creates his own trends instead of following the trends, creates his collections with his wearable couture understanding and style that prioritizes elegance and grace. Elegant and high-quality craftsmanship is one of the striking and powerful details. Mehmet Korkmaz, who has signed the collections that reveal all the nobility of Haute Couture with high quality hand workmanship with beads, sequins and crystals, which have become the signature of the brand, is currently on a trunk show tour covering many cities of the world.
We made an interview with Mehmet Korkmaz, who is also the owner of the "European Quality Research Achievement Award", which was given for the first time in the past months, starting from the past and extending to his new projects…
When did you realize you wanted to be a designer? How did you enter into a difficult road based on heavy craftsmanship and handicraft such as haute couture?
I had a childhood intertwined with fashion. My adventure in the fashion world started when I was nine years old by sewing dresses and costumes for my mother. You can never buy the art and craft that exists within the human being. Both are worlds that complement each other. Some people go for ready-made clothing and some people move forward with haute couture. Wherever the person feels, he chooses the path, finds it and grows. A path that is easy for me that everyone says is difficult, a world where I feel happy…
Which artists and fashion designers were you interested in before your design style became established?
In the past, I was interested in fashion designers who provided and revealed the perfect stitching, error-free measurements, pattern, fabric, everything in royal fashion, as well as the world of Gianni Versace before he died.
What is the woman like in your eyes while making your designs, what are her important features?
Women who do not care about popular culture, have style, think cool, sexy and luxury. Developing women who have a sense of quality, regardless of language or religion, and who push themselves to the limits, seeking integrity with everything.
Can you tell us about your sources of inspiration? What influences your designs?
Especially my past, my difficulties, pain, sadness and happiness, whatever nature, universe and God created are my inspiration in this world. The psychological factors that make me feel and experience inspire me regardless of the day and time period.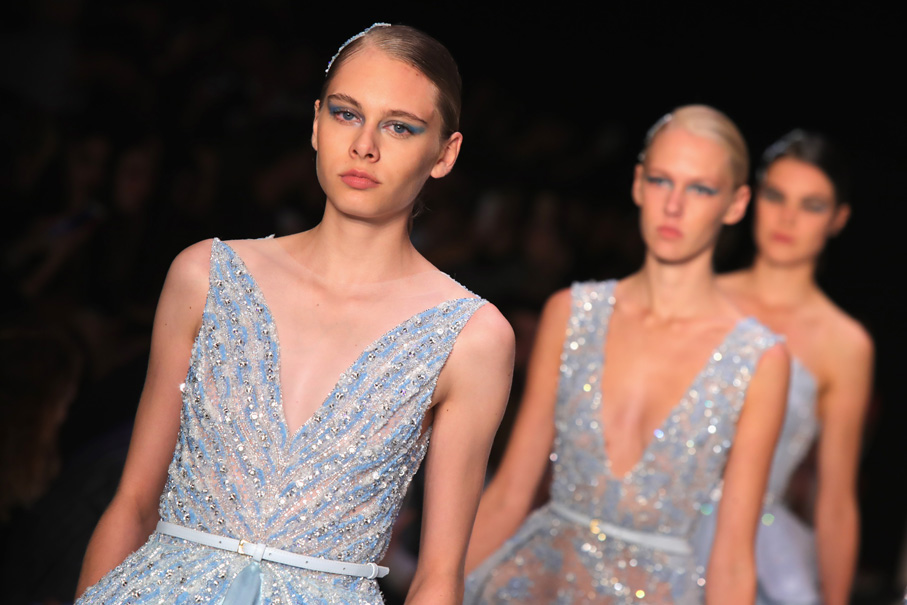 Could you tell us a little bit about your wedding dress brand, Mehmet Korkmaz Bridal?
A world where I carry the Mehmet Korkmaz line to the Bridal world, which does not compromise on its couture philosophy. A world that I designed and sewed for all-white, devoted women who want to love, integrate, own and live this world and leave themselves to me.
You started a trunk show tour covering many cities of the world, can you talk about it?
Because of the new pre-world processes, we are now entering the world of women. We provide private services. The capsule collections that we have launched in a short time in Qatar, Beirut, London, Kuwait, Dubai, Istanbul, Paris and many other countries offer the opportunity to get to know and own.
Do you have good news that excites you the most, like a new collection?
Stay tuned for Haute Couture Fall/Winter 2023!