There are few things quite as luxurious as removing your makeup with a fluffy facecloth, so it seemed only natural antipodean toweling brand Baina collaborate with organic skincare brand Lesse on a collection which highlights the brand's signature coastal colourway.
The new Baina x Lesse Bethell Bath Towel, $80, is intended to elevate any bathroom space with its soothing color palette of mist blue and salt stripe detailing.
Both brands serve to celebrate the ritual of self-care, a pared-back design and an affinity with Australia (Lesse founder Neada Deters was born in Australia, while Baina was co-founded there by New Zealand born Anna Fahey and Bailey Meredith).
"Lesse felt like the natural brand alignment given our shared ethos to elevate one's daily self-care ritual," says Bailey.
"Our Bethell Bath Towel has been a firm favorite among our customers. The application of the Less color palette of mist and salt has translated simply and feels very intentional," adds Anna.
Below, co-founder Bailey chats to Ashleigh Cometti about the pair's motivation behind their most recent collaboration.
What do you look for in a brand to collaborate with? Why did you feel Lesse made an excellent brand fit for Baina?
We look for an authentic connection. Working with another brand in this way can become quite an intimate and personal process so it's important that both brands speak a similar language when it comes to the direction and purpose of the collaboration.
We felt that there was an incredibly strong synergy between Baina and Lesse — the shared ethos and ideals around daily rituals, connected by the act of paring back and celebrating self-care.
Baina founders Bailey Meredith and Anna Fahey. Photo / Supplied
Can you talk me through the collaboration process with Lesse and how you worked together to settle on a final concept? How long did the process take all up?
Our initial conversations started over 12 months ago. As Lesse's founder, Neada is based in LA, the process has been longer as we've been working together virtually on the concept. We both agreed from the very beginning we were going to create a towel and that we wanted to incorporate the Lesse brand colors with an existing Baina design.
READ: Baina Co-Founders Bailey Meredith & Anna Fahey's Big Days Ahead
From there it was a matter of mocking up a number of different concepts and working through the options together. We landed on our Bethell bath towel which was the perfect style for the selected color palette. It's soft, yet strong and has a calming notion that embodies the Lesse brand.
Can you share your perfect self-care ritual which harnesses both Lesse products and the new Baina x Lesse Bethell Bath Towel?
Every Sunday evening, I draw a bath filled with magnesium salts and apply the Lesse Bioactive Face mask. It is my absolute favorite product in the range and is perfect for a long soak as I can leave it on for 45 minutes while I decompress after a busy week.
When it's time to get out I reach for my Lesse towel. I have loved testing this product in my new bathroom. The signature coastal colorway of mist and salt continues to calm as I transition from the bath to bed.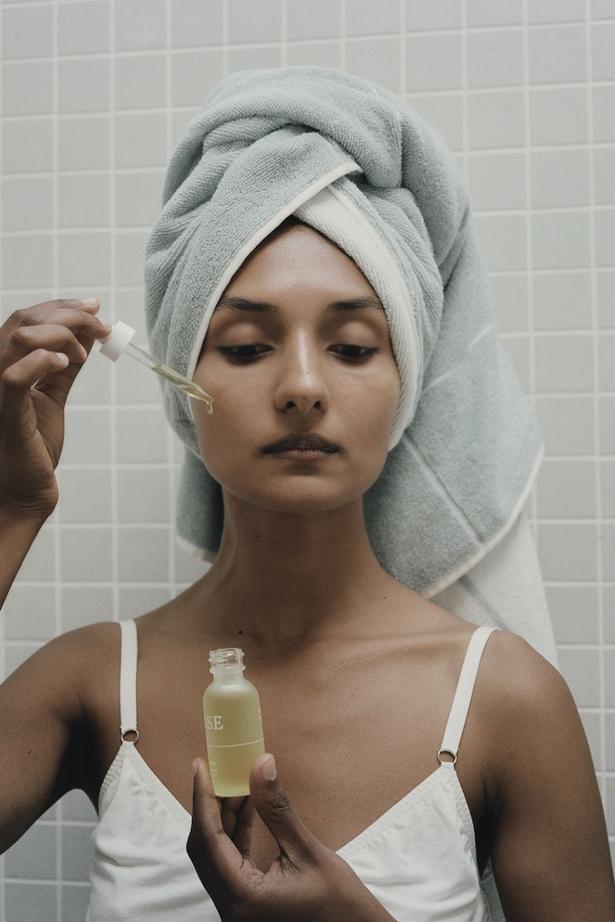 Bailey says her soothing Sunday evening self-care ritual helps ease the transition into bed. Photo / Supplied
What did you enjoy most about working with Neada Deters?
Neada is a genuine and warm soul. It was very rewarding to collaborate with such a driven and passionate person — not just on the product but also on all the other aspects of the launch such as the creative direction for our photoshoot and our marketing strategy.
Being able to share and draw on each other's knowledge and experience will continue to inspire us beyond this project.
This collaboration marks Baina's second collaboration, what's next for the brand in 2022?
We have a new collection launching in October, just in time for summer. We are excited to share the continued evolution of Baina with new organic towels intentionally designed to subtly disrupt the bathroom space.
We are also focusing on our growth in the US after launching our US website earlier this year.
Anna and I recently returned from a trip to LA where we worked on a photoshoot with Thomas Slack, met international media and hosted an intimate dinner with wonderful people we have recently connected with on this journey.
We are looking forward to seeing our community grow globally as we continue to focus on new territories.
The new Baina x Lesse Bethell Bath Towel highlights a mist blue and salt stripe colourway. Photo / Supplied
Available from shopbaina.com or lessofficial.com