F: Craig McDean, Vogue, April 2014
Let's face it, we were getting signals that the low-waisted pants trend was coming back for a while and we were all afraid of it (we leave Julia Fox in a different place, of course!) Since the fashion world has been enthusiastic about remembering the good old days, low-waisted skirts and trousers are still on our agenda. high waist fashion continues to maintain its top position as always.
If you need inspiration for high-waisted trousers, which are sometimes the symbol of daily look with crops and sometimes elegant elegance with shirts, we have some suggestions for you.
Strapless 2.0
Strapless tops, worn by celebrities such as Britney Spears and Paris Hilton with low-waisted jeans in the 90s and 2000s, are on the agenda again in 2022. But now we prefer to pair them with more stylish trousers for a change in look.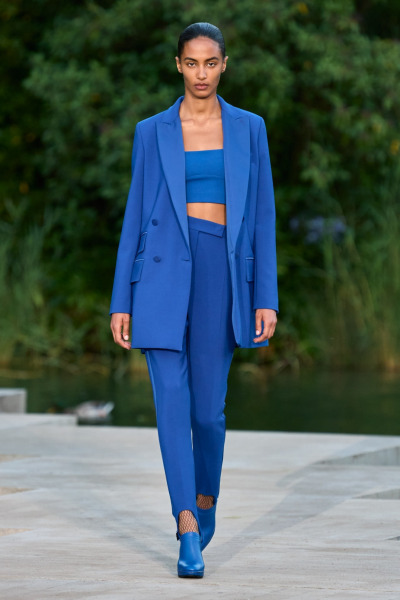 Max Mara / Go Runway
The best wing
If you think that they are the only ones at the top these days when high-waisted trousers are on the rise, you are wrong. Of course, short blouses are still with them as their best wingmen. A high-waisted trousers and cropped blouses are all you need to frame any silhouette perfectly.
Higher with palazzo pants
Palazzo trousers may sound complicated, but let's simply call them super wide-leg trousers. Usually the best palazzo pants are made from a lightweight fabric, making them an ideal choice for summer wear. Look for airy, flowy fabrics like silk, cotton, and linen that will add even more appeal to these pants. Of course, it is useful to be bold enough about color.
Balanced silhouettes
It can be a bit boring to think about long winter days with holiday mode and heat waves, we admit. Fortunately, we also know the secret of elegant touches that will make it fun. In addition to comfort, high-waisted trousers offer the key to elegant elegance with puff sleeve blouses or silk shirts. You can try it with stilettos or with boots, loafers and even flats.
LABELS: HIGH WAIST
!function(f,b,e,v,n,t,s)
{if(f.fbq)return;n=f.fbq=function(){n.callMethod?
n.callMethod.apply(n,arguments):n.queue.push(arguments)};
if(!f._fbq)f._fbq=n;n.push=n;n.loaded=!0;n.version='2.0′;
n.queue=[];t=b.createElement(e);t.async=!0;
t.src=v;s=b.getElementsByTagName(e)[0];
s.parentNode.insertBefore(t,s)}(window, document,'script',
'
fbq('init', '1771471336408346');
fbq('track', 'PageView');