Ask any millennial what their skincare regime was in the early noughties and chances are they'd reply with this: cleanse, tone and moisturise.
In the years since, we've graduated from this simple, three-step skincare blueprint to one that calls for an array of products in myriad textures, each with its own set of ingredients to cater to every skin type and skin concern.
There's retinol for wrinkles, hyaluronic acid for dehydration and salicylic acid for breakouts. Not to mention the number of masks, pimple patches, and de-puffing tools competing for space on our bathroom cabinet.
Although it's great there are so many options to select from, the sheer number of products vying for our attention (and money) can be overwhelming.
No longer satisfied with a one-size-fits-all approach to beauty, a shift in consumer preferences is paving the way for a new wave of skincare brands offering bespoke, tailor-made solutions suited to specific skin needs.
But how does personalized skincare offer a truly bespoke experience for consumers? Ashleigh Cometti speaks to Amar Mehta and Vanessa Pinheiro from Mutual, the newest skincare brand offering personalized products to local beauty buffs.
WHAT IS PERSONALIZED BEAUTY?
Earlier this year, we teased that personalized skincare would be one of the prevailing beauty trends to take over in 2022, offering a choose-your-own-adventure of sorts when it comes to curating your skincare routine.
Designed to combat decision fatigue, not to mention limit the number of products entering landfill, personalized skincare is excellent for helping consumers navigate the often-confusing world of skincare.
HOW DOES IT WORK?
It's a clear signifier that beauty and tech is becoming even more intertwined, with a number of brands opting for intuitive mobile apps, online quizzes or in-person consultations to develop bespoke products.
Overseas, brands like Function Beauty and Proven have built quizzes and questionnaires inquiring about your lifestyle, skin type and skin goals to determine which blend of ingredients will most benefit you.
Love From Yours uses Camy, a computer vision algorithm, to analyze selfies — detecting 20 different skin concerns like pigmentation, aging, dark circles and redness, before prescribing personalized skincare sets to suit.
Meanwhile, SkinCeuticals' Custom DOSE (Diagnostic Optimization Serum Experience) includes a 10-minute consultation with a dermatologist, during which a personalized formula is determined by a series of 85,000 algorithms, with 48 possible combinations available.
Locally, Mutual is delivering personalized skincare to savvy beauty buffs, with 220 different combinations currently available. Photo / Supplied
MEET MUTUAL
In 2022, personalization goes one step further. Enter Mutual, the new skincare brand pioneering personalized skincare in Aotearoa with finely tuned formulas tailored to an individual's unique skin type.
A collaboration between New Zealand wellness company Creative Wellness NZ and Canadian pharmaceutical giant Medisca, Mutual co-founder and CMO Amar Mehta says the launch has been a long time coming.
"We had been working with local dermatologists, doctors and pharmacies for a while, and they had expressed an interest in personalizing skincare formulas for their patients. So, it made sense for us to look into a system to help create personalized skincare," he says.
What culminated originally was Blend & Boost, which took several years to develop and required an in-person assessment with a practitioner. But as consumer attitudes about purchasing skincare online shifted, Amar says it was timely an e-commerce iteration, Mutual, came to fruition.
READ: How One Beauty Entrepreneur Used Lockdown To Springboard Her Business
Currently, there are 220 individual formulas available, and each one is determined by Mutual's Skin Assessment tool, which uses a sophisticated AI algorithm with more than 70,000 dermatological data points to recommend an all-in-one product that will target specific skin concerns.
"Each answer you give changes the pathway you go down, so the questions you get asked will change based on your answers. Our algorithm then looks at the total summation of your answers and works out the best possible products to target your concerns," Amar says.
"It's a complex system and we hope to continually update and upgrade it over time to make it even better."
The name is significant for many reasons, Amar explains, adding Mutual serves to celebrate successful collaborations. "It started as a collaboration between different types of scientists, and now it's a collaboration between two companies. It's also a collaboration between science and nature. But mostly, it's a collaboration between us (Mutual) and you, the consumer," he says.
IS THIS THE FUTURE OF SKINCARE?
Vanessa Pinheiro, a lead pharmacist at Medisca and the co-inventor of Blend & Boost (Mutual's precursor), says tailor-made skincare is the way forward for the beauty industry.
"I believe that the old concept developed by the industry where the same product fits all will no longer be part of the future. Trust me, everyone's skin is very unique and customization will be the keyword in the cosmetic world," she says.
"Based on this concept, I am sure that Mutual will change the way people see cosmetics from now on."
The custom-blended formulas are set among one of five different cream bases to cover off a multitude of skin concerns — including aging, dehydration, sensitivity and acne. Next, up to three of the 12 multi-functional active boosters are added.
"The selection of these boosters will be based on the answers that the customer will give when they fill out the skin assessment that can be found on the Mutual website," Vanessa says.
Each booster has its own unique, proprietary properties, Vanessa says, for example, the Enhanced Vitamin C, a 100 per cent natural vitamin C derivative which has improved heat and photostability (the ingredient is notorious for breaking down when exposed to heat or air) and is better able to penetrate the skin to address the appearance of fine lines, wrinkles and age spots.
Similarly, Mutual's Advanced Hyaluronic Acid is delivered to the deepest layers of skin thanks to what Vanessa calls its "onion-like liposomal structures" which encapsulate the hero hydrator and promise a controlled release of its goodness for immediate and long-lasting moisturisation and skin smoothing.
Common combinations include the Improved Coenzyme Q10 alongside the Rich or Light Anti-Ageing Bases, or the Oxygenation Serum with the Oily Skin Cream Base as well as the Light Anti-Ageing, Sensitive Skin or Moisturizing Cream Bases.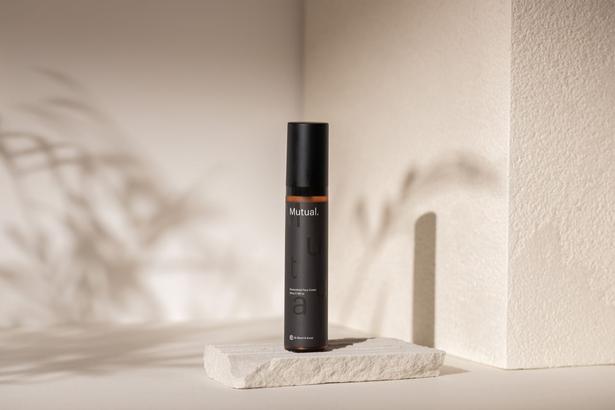 In a bid to prevent waste, Mutual doesn't mass produce its offering, instead waiting for an individual's results come through before hand-pouring the formula. Photo / Supplied
NO MORE MASS PRODUCTION
To ensure freshness and efficacy, each personalized product is hand-poured in Aotearoa after the Skin Assessment is completed, which was something Amar says was always important to the brand from the start.
"We can't mass produce the product because there are so many variations. We can't just make lots of products in advance and hope those recommendations come through," Amar says.
Which begs the question — is personalized skincare the answer to the beauty industry's sustainability problem?
According to Amar, reducing consumption by condensing multiple products into one do-it-all solution is a step in the right direction. "Instead of many different bottles in your bathroom, with Mutual you need just one. That means less packaging is created and less waste occurs in the production process," he says.
IS THERE ROOM FOR ERROR?
Without the guidance of a professional, following a survey or questionnaire about your skin does require a certain level of beauty know-how. To some, the answers may be obvious, but others who aren't as well-versed, it can be easy to mischaracterise skin.
If you fall into the latter category, research any unfamiliar terms while taking the quiz, or pop into a skin clinic for a skin diagnostic with a trained professional so you can answer your skincare questionnaire more confidently.