Image Source: Getty / Arturo Holmes / WireImage
While Eleven happily munches on forkfuls of Eggo waffles smothered in maple syrup, Millie Bobby Brown would pass up the breakfast treat for her favorite on-set snack any day. During a recent "Hot Ones" interview, Brown got real about what it's like filming 12-hour eating scenes for "Stranger Things" and shared her favorite snack to eat between takes: a four-ingredient "McCod," which is basically a unique cross between a salad and a sandwich.
"They usually make me like six of them, and that is what keeps me going on set. It's the best ever."
Named after "Crafty Dave," who makes the snack for her backstage, the McCod is essentially a lettuce wrap with your choice of fillings; it can easily be made with whatever leftovers you have sitting in your fridge. "What we do is we get a piece of lettuce, we get cut-up ham, peppers, and we get sriracha, and we cover the whole kind of sandwich in it," Brown says. "They usually make me like six of them, and that is what keeps me going on set. It's the best ever."
The McCod has been a Brown favorite for years. In a 2016 interview with Bon Appetit, Brown mentioned the snack and added that she's also experimented with adding ingredients like tomato and avocado. "It's a little salad that's jam packed with tomato, raw, avocado, and hot sriracha," she said. "It's really good, and I'll have them in the middle of the set. So if I didn't like what was being served, I would go to Crafty, and I'd get a McCod, like five of them. "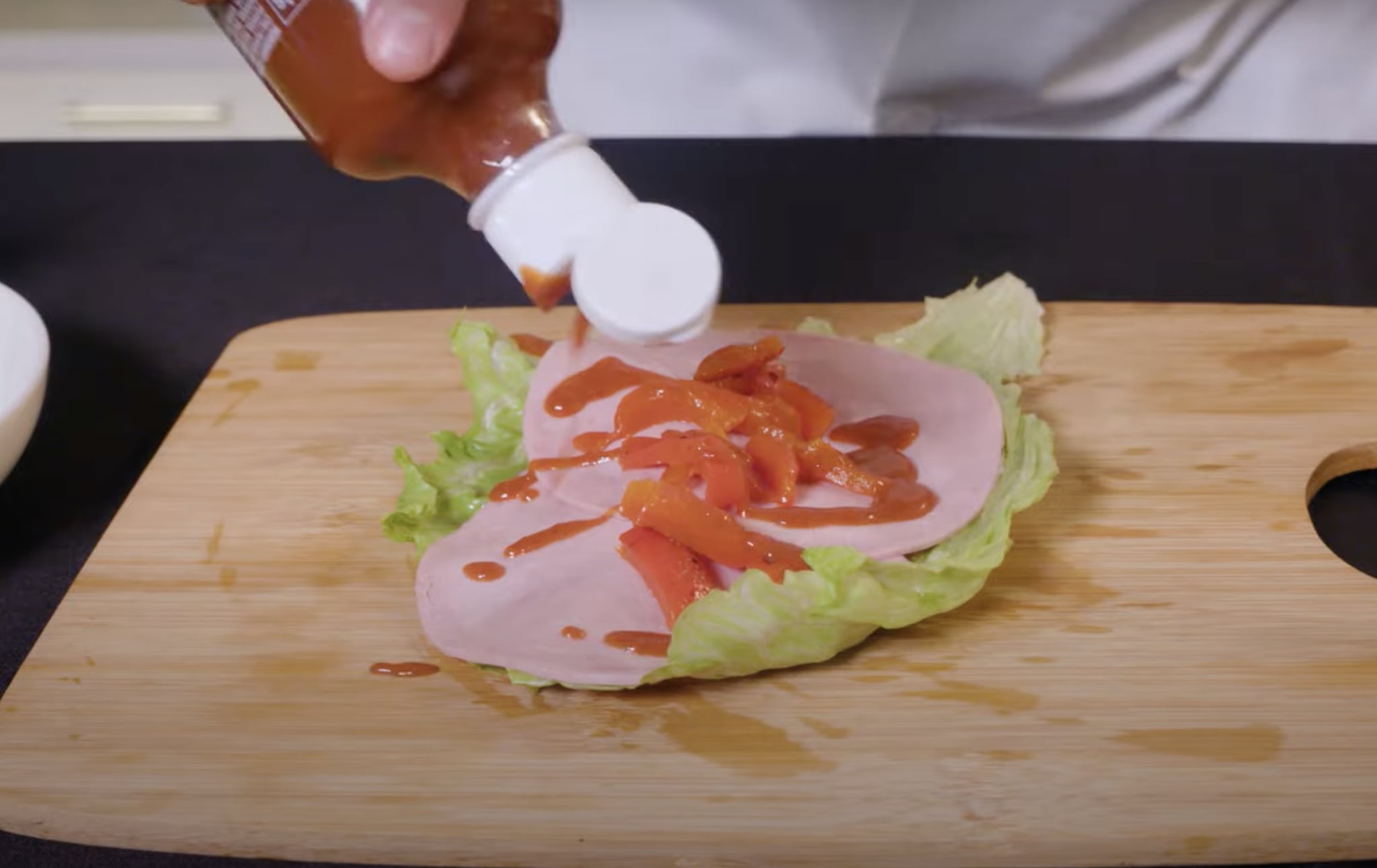 Image Source: YouTube user First We Feast
While Brown is happy to snack on McCods and other refreshments from craft services in between takes, there's a reason she didn't choose waffles and ice cream as her go-to snack. "What are the forces at play that make shooting a scene in which your character is wolfing down diner food and Eggo waffles by the dozen — what makes those scenes, for an actor, so much more difficult than an audience may realize?" "Hot Ones" host Sean Evans asks as Brown recovers from her latest bite of spicy chicken.
The answer is pretty straightforward. Those food scenes take longer to movie than you might think, and it's easy to get sick of even the most delicious meals after nibbling at them all day long. "You're doing it for 12 hours, so usually what you do is you just get a little bucket beside you and you can just spit into it after every take — or sometimes during the take," she says. "Most of the time I just pretend I'm eating, which always kind of works. Other than that, you just start to feel really nauseous — it's horrible. Whatever you choose to eat on that plate, you're eating for 12 hours , so usually I always choose a salad or a fruit. It works."
Will we be trying the McCod sometime soon? We might just have to, especially if it gives us the same powers as Eleven. See Brown sweat it out during her full "Hot Ones" interview ahead.
window.fbAsyncInit = function() {
FB.init({
appId : '175338224756',
status : true, // check login status
xfbml : true, // parse XFBML
version : 'v8.0'
});
ONSUGAR.Event.fire('fb:loaded');
};
// Load the SDK Asynchronously
(function(d){
var id = 'facebook-jssdk'; if (d.getElementById(id)) {return;}
if (typeof scriptsList !== "undefined") {
scriptsList.push({'src': ' 'attrs': {'id':id, 'async': true}});
}
}(document));