Dominic Browne meets Martin Polland, the new president of the Institute of Highway Engineers (IHE).
A self-made man and engineer who worked his way up from street-level tool jobs to lead his profession, Martin Polland is the first Scottish president of the IHE and the ultimate IHE success story.
For a moment he is lost for words, then tips his head back and laughs: 'What would my younger self think of where I am now? They would think, how the hell did you get there?'
Intelligent, popular and held in deep respect, Mr Polland still can't quite believe what he has achieved. The son of a plasterer and doctor's receptionist, he started his career working on the tools with his dad before moving to a utility contractor and then began working his way up through local government highways departments some 30 years ago. He is now network manager for the north at Transport Scotland, basically managing around half of Scotland's trunk road network.
If there is a secret to his success, it is two-fold: the values ​​his family installed in him and bloody hard work: 'My grandad was a big influence in my life. He always used to say just be the best you can. He never had much. My grandfather would be absolutely proud of me.'
'Never in my lifetime, in my dreams, did I ever think I would be president of the IHE,' Mr Polland adds. 'It's hard to describe. I hope I can deliver everything the members expect of me. I might not be the best at everything I do but one thing I will do is work my hardest at everything. I can guarantee 100% effort; I am looking forward to it.'
Having found himself at the top of his profession, his first instinct seems to be to look around for someone to thank for all these favours, and (though he would never say it himself) is perhaps a little staggered to discover that he is the person most responsible.
We tend to celebrate people who achieved their childhood dreams above everyone else, forgetting that achieving your adult dreams can be even more remarkable. Perhaps this is why we don't have much of a vocabulary to explain the feeling, which is typically expressed by the awkward formulation of being both 'humbled and proud'. Those who think this is a contradiction in terms would do well to spend an hour in the great company of
Mr Polland to understand how it can make perfect sense. For some people, it might be lip service but with the new IHE president, it is absolutely not.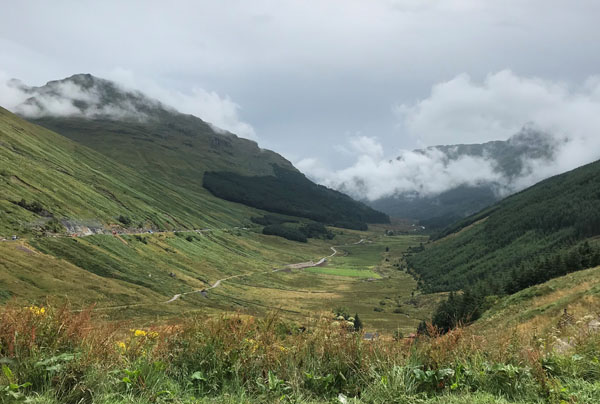 Asked what his proudest moment is, Mr Polland says: 'Getting professionally qualified and becoming a chartered engineer. I have an HND in engineering. I don't have a degree background. So I did things the hard way. I started working life without many formal qualifications and went to study when I was 23 for five years including a year at night school. Then the IHE opened up the experiential route [to professional qualification], which allowed guys like me who had lots of experience in the industry in managing processes and people to get chartered. I think I was second through the process with IHE; that was a proud moment for me personally.
'But the thing that gets my heart pounding is helping other people through the process. I have mentored quite a few people through the process. When they get professionally qualified I know they will be happy but I get a kick out of it too. That might sound strange but I love to see people better themselves.'
All this is delivered in a Scottish burr that is understated and never gushing. In fact, when he speaks he will often pause to step back and check the truth of his work as any good engineer might.
The sense of 'giving back' runs deep in Mr Polland's life and character, to the point where he even took up football refereeing because his stepson used to play football and he 'wanted to put something back into football after my boy got so much out '.
'What I didn't understand is how complex the abuse you get is,' he jokes, 'but I love it'.
As any amateur footballer will tell you, the abuse is both inventive and relentless and refereeing is indeed above and beyond the call of social duty.
Having done 'maybe 40 or 50 professional reviews for the IHE over the years', he is well versed in the professional qualifications and expert at guiding people through the process. Mr Polland also goes into schools and universities to help inspire the next generation and educate them about the diversity of opportunities the sector offers, and of course the benefits of joining the IHE. Again, this is partly linked to his sense of the duty of reciprocation: 'I joined the IHE in September 1998 and that was because the IHE came to my college and explained the benefits. So that is how I managed to get into the highways sector.'
His advice to young would-be engineers: 'I say to them don't become blinkered. Have a look across the industry. Attend CPD events that are not in your field. Open your horizons because there may be something that takes your interest.
'Learn as much as you can. Really get involved in the industry. Get involved in IHE, and attend your local branch meeting. Attend your local branch's CPD. Meet new people.
You will meet people across the industry. And that often helps as you are trying to progress through the grades to get jobs.'
His main ambition for his two-year stint as president is to expand the reach and membership of the IHE. A major element of this work will be continuing to reinforce the regional branch structure, which has had something of a renaissance in recent years, celebrating not just the resurrection of the Northern Irish branch but the birth of an international branch in Qatar.
'The middle eastern branch in Qatar approached us. It would be lovely to have more international branches. If there were any overseas groups that would like to set up a branch we would love to hear from them. I am sure there will be. There are members from Belgium that have joined.
'We have a chairs' meeting now every eight weeks or so. All the chairs from the branches meet. It is about sharing best practice. I hope to attend each of the branches as well and meet the branch chairs – whether in person or virtually. Just to put the message out: what do you need? It is about sharing experience and knowledge and understanding their needs. We need to hear back from members and we have that balance about right.'
As a result of listening to the message coming back from the branches, the IHE is currently preparing a course in asset management 'to help new practitioners coming into the industry as an overview of what they need', Mr Polland reveals.
Highways' Big Interview usually ends with the same question: 'Tell us something about yourself that not many people know.'
Mr Polland reveals: 'I have performed on a world stage. One of my friends was a principal dancer at the Moulin Rouge until recently. And I was there watching the show one night and during the interval, they bring on acts with audience participation to entertain the crowd. I was whisked dramatically onto the stage for a ventriloquist's act. I said to my friends I hate you but they had no idea I'd been chosen.'
The anecdote might be unexpected but it makes complete sense. Mr Polland prides himself on treating everyone equally – 'you are only as good as the people who are working with you' – and it is really no surprise that this slightly grizzled engineer is friends with glamorous dancers or happy to get involved himself.
While engineers often love solving problems, they are unfairly seen as not being good with people. Mr Polland has mastered both areas, perhaps because he instinctively knows that people are not problems to be solved. They are rather unfolding stories. You never know what they are capable of: young Martin Polland certainly didn't.