They were unlikely childhood friends, the daughters of rival newspaper magnates, born into high Melbourne society in the late 1800s, but determined to forge their own creative paths. Ethel Spowers and Eveline Syme were at the forefront of a modernist revolution in art, but like so many sidelined women artists, their work was long forgotten. It is only now that we're learning the truth of their significance, their friendship and their art, thanks to an exhibition at Geelong Gallery.
Spowers and Syme lived in Melbourne but studied abroad together at a time when women's new-found freedoms were opening doors in ways that were previously out of reach. Spowers was born in 1890, Syme in 1888, and while the exact moment they met isn't known, they attended the same prestigious South Yarra school.
Both came from families of six children. Spowers' father, William, owned The Argus and The Australasianwhile Syme's father, Joseph, part-owned The Age. , this media rivalry didn't translate into social contest: the families moved in the same social circles and were equally fortunately philanthropic, their mothers attentive to charity and social-mindedness – a generosity their daughters would inherit.
But as Sarina Noordhuis-Fairfax, curator of Spowers & Syme, explains, they had something their mothers were denied. "Importantly, they were part of the first generation of Australian women able to have a professional career," she says. "They were supported and allowed to study."
In post-WWI Australia, the hard-won gains of women's suffrage were being realized, and the pressure for women to wed and bear children had eased. Spowers and Syme dedicated their lives to creativity – and printmaking captivated them. "The way Spowers and Syme initially learned about printmaking wasn't from art school because it wasn't taught there," says Noordhuis-Fairfax, noting a conservative focus on formal drawing and painting techniques.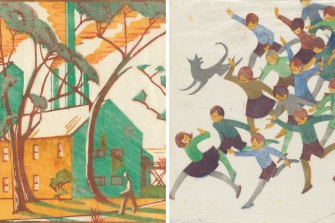 loading
Interested in the Japanese woodcut method, the pair were also inspired by avant-garde printmaker Claude Flight's innovative approach to the color linocut. In early 1929 they studied with Flight at London's Grosvenor School of Modern Art. Alongside learning formal techniques and the process of multi-layered linocuts, Spowers and Syme were drawn to Flight's belief that art should reflect life.
Flight was compelled by the desire to represent modernity and ceaseless acceleration. "It was about capturing the energy and vitality of the time you live in," says Noordhuis-Fairfax, "and all those formal ideas of how you do that; how you simplify forms, use pattern and repetition to get that strong sense of rhythm and energy."