The "Buffy the Vampire Slayer" star stated that she did not reveal her medical diagnosis and was handling the impacts of MS while recording "WandaVision."
Emma Caulfield is done being quiet about the quiet illness she's been fighting considering that 2010, exposing in a brand-new interview with Vanity Fair that she has several sclerosis.
The "Buffy the Vampire Slayer" and "WandaVision" star even more exposed that she had actually been handling signs from the illness while recording the groundbreaking Marvel Studios series, however didn't reveal them due to the fact that she "didn't wish to offer anybody the chance to not employ me."
Hugh Jackman Will Return as Wolverine in Deadpool 3, According to Ryan Reynolds Video

View Story
She explained the very first sign that sent her to the medical professional, detailing, "I got up one early morning and the left side of my face seemed like there were a million ants crawling on it."
She explained it as the sensation when a part of your body has actually gone to sleep and it's beginning to get up once again. After that feeling faded, she stated that side of her face felt not numb, however "exceptionally dull."
After tests, Caulfield's medical professional informed rather straight that she had MS. "It resembled an out-of-body experience," she stated. "I resemble, 'No, that's not possible.' I resemble, 'What are you speaking about?'"
Caulfield stated that she picked to keep her medical diagnosis quiet while working due to the fact that there are currently a lot of factors for a casting director to not work with somebody, and she wasn't aiming to provide another one. "I understood in my bones that if you discuss this, you're simply going to quit working. That's it," she stated.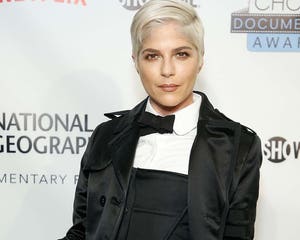 getty
Selma Blair Exposes She Fainted Prior To 5 Hour DWTS Wedding Rehearsal: 'I Lose consciousness a Lot'

View Story
The starlet, who represented Dotty/Sarah Proctor on "WandaVision" has actually signed to repeat the function in the upcoming spinoff series, "Agatha: Coven of Turmoil." This time, however, she stated she's made anybody "that requires to be informed" mindful.
In the meantime, however, she states she feels all right. "Honestly, my mindset is not falling apart under the worry of 'what if' or 'what can,' or 'what has' for other individuals. I simply need to keep going."
Kathryn Hahn takes the lead as the witch Agatha Harkness in the upcoming Marvel Studios series "Agatha: Coven of Turmoil." Caulfield's Dotty character in the numerous comedy worlds of "WandaVision" ended up being an instantaneous fan favorite for her ominous undertone.