Photo: @blancamiro
Although hair accessories are known as small and fun details in your look, the effect is bigger than we think. If you want to add a little color to your comfort and get bored of picking up your hair with the effect of hot weather, we say take a look at your favorite hair accessories this summer. Moreover, these accessories, which we did not want to be very visible in the past, and which we only expected to keep our hair neat, are back to be visible this time. They're brighter than ever, more eye-catching than ever.
Let's remind you that you still have time to try your favorite hair accessories this summer, from romantic ribbons to eye-catching headbands, and let's explore the 4 accessories that stand out.
Colorful bar clasps
Bar clasps, indispensable to the 90's spirit, have recently become an indispensable accessory for it-girls. Moreover, these accessories, which we did not want to be visible in the past, are now more bright, stony and colorful than ever before. If you haven't bought a clip clip set yet, we recommend that you make as colorful choices as possible.
Comfort and fun combined: Headbands
Soft and shiny satin textures or headbands surrounded by shiny stones are one of the favorite accessories of recent years. Adapting the spirit of the 90s to the present, the headbands will complete your holiday style, as well as keep your hair wet on the beach in order and make you comfortable on the beach. You may not want to limit this accessory, which you can use with your long, straight or wavy or short hair, to the summer of 2022.
The spirit of the 90s is always fresh: Clip buckles
You are aware of the transformation of clip buckles, right? These accessories, which helped us to hold the hair that fell in front of us when we were little, returned in 2022 with a big change (in fact, they never went away) and now they are indispensable for anyone who wants to make their look a little fun. A very simple hair accessory, clip-on hairpins are everywhere from Kendall Jenner to Hailey Bieber, and their only task is not a random bun.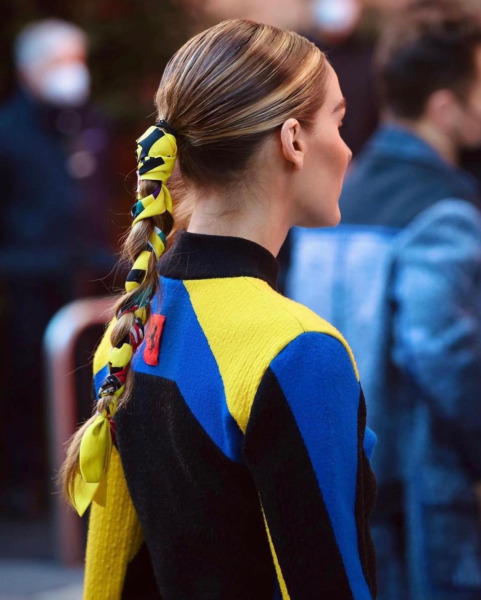 Photo: @oliviapalermo
Indispensable for summer: Bandanas
With the arrival of warm weather, we once again leave our hair on the soft arms of bandanas. Your open or tied hair, a messy bun, etc. You can try different variations. Let's add that bandanas look great with both long and short hair. You can even try to get a romantic look by tying it into a ponytail.
LABELS: HAIR ACCESSORIES
!function(f,b,e,v,n,t,s)
{if(f.fbq)return;n=f.fbq=function(){n.callMethod?
n.callMethod.apply(n,arguments):n.queue.push(arguments)};
if(!f._fbq)f._fbq=n;n.push=n;n.loaded=!0;n.version='2.0′;
n.queue=[];t=b.createElement(e);t.async=!0;
t.src=v;s=b.getElementsByTagName(e)[0];
s.parentNode.insertBefore(t,s)}(window, document,'script',
'
fbq('init', '1771471336408346');
fbq('track', 'PageView');