Too Personal starts with an idea that is deeply rooted in saving the world; It offers a new option to today's world, which is based on consumption, where our resources are brutally used and clothing brands have become a big part of fast fashion, and opens an important door on the way to upcycling.
What many of us take for granted "take-use-throw" objecting to the model, mToo Personal, which was born with the idea of ​​upcycling, which is an excellent option for sustainable, responsible and ethical production in the room industry, and the idea of ​​protecting the world's resources, launched its first upcycling collection. A Wish with us.
Contrary to the consumption-oriented and alternative size variety, the collection offers its customers one size from each product and presents us with a product selection that can be updated according to the upcycling periods, instead of the collections that change every season and are offered for sale in the usual periods. We listen to the details of the collection and Too Personal from Alara Erol.
Sustainable fashion is a concept that has come up frequently in recent years. Although it has settled in our daily lives, there are situations where we do not fully understand what it means. What is sustainable fashion and why is it important?
Although the concept of sustainability or sustainable fashion is a concept that we come across quite often, unfortunately, its meaning is often not fully understood, and it takes place as a marketing strategy. In fact, sustainable fashion means that the product, which is a fashion item, uses organic fabrics and goes through environmentally friendly production processes, and the emergence of long-lasting clothing. At this point, I attach great importance to the part of environmentally friendly production because, in general, the water, energy and human resources used in the creation of a t-shirt also cause an output as a result. For this reason, the fashion industry alone can produce up to 10% of the carbon emissions produced by humanity. Of course, we support this output when we prefer fast consumption. At this point, it is very important that the conscious society directs brands to be sustainable and makes their choices accordingly. Increasing awareness of these issues around the world encourages the circular economy and the circular fashion that supports this economic model. In this context, as soon as you decide to produce a product in order to be sustainable, you also decide what it will be at the end of its life, whether it can be recycled, reused or composted. needs to be completed. The process needs to be planned in this way, creating a closed loop, that is, deciding how to end the product life and taking steps in this direction. Unfortunately, sustainability is no longer a choice, it is a necessity and responsibility in our planet, where we consume its resources fast. For this, as consumers, we should support sustainable fashion and local production with brands that have this awareness.
We can say that the fashion industry has started to take the climate crisis into account. Many brands, institutions and designers are now thinking about how little harm I can do to the environment, how can I reduce my carbon footprint. Of course, their sincerity is questioned. How do you interpret these developments?
In my opinion, a public opinion on sustainability and the climate crisis is better than none at all. Especially in a sector such as the fashion industry, where there is an intense consumption in terms of raw materials, water, energy and chemicals, if environmental improvements are made, the textile sector is the 3rd sector that will have the biggest impact on the sustainability of world resources. While there is such a serious picture, I care about every step taken regarding sustainability, but we still remain in the minority as individuals who care about these concepts and try to build their lifestyle around these concepts. But as we continue to set the agenda, I think that awareness will increase over time. At this point, I think that the brand should be able to bring all processes together with the consumer with transparency, and the consumer should investigate the background of the expressions left on the showcase. In this context, one of the most hot topics is greenwashingWe can give as an example. We need to find out by researching that some fancy words are far from sustainability, they are only used to influence the consumer in this direction. At this point, I think that our duty as sustainable brands is to offer sustainable products to the consumer, while being able to convey the concept of sustainability with all its aspects and meanings from a 360-degree perspective.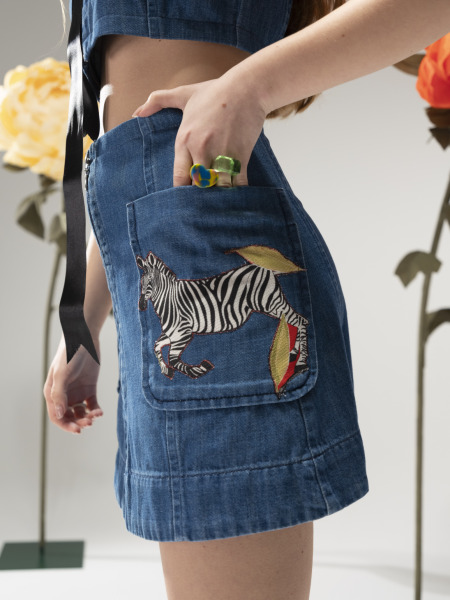 Too Personal has an understanding that centers on upcycling with the motto "Your clothes have a second life". What is the difference between upcycling and recycling?
Upcycling is the conversion of products that cannot be used in their current state into a more functional and value-added product suitable for reuse. Recycling, on the other hand, is the process of separating the products that have completed their life and cannot be used in any other way into their raw materials. The main difference between upcycling and recycling is actually a point that complements each other. The aim is to recycle the recycled clothes so that they can continue to be used by regaining their second life, and when they reach the point where they cannot be used, they are separated into their raw materials.
Too Personal's first upcycling collection A Wish with us. How did this collection come about, what does it consist of?
A Wish The collection is a collection that consists of 14 pieces in total and has been completely recycled. We bought these collection pieces from special vintage stores and personal cabinets by considering the quality and fabric of the products in order to support long-term use. Each piece was either used only a few times and was either waiting in its turn in the closet or unused for various reasons. First of all, we started the process by determining why each part is no longer used. Some of them were not used because they were outdated today, and some were not used because they did not provide comfort to the person. In this context, we researched what we can do, how the product can be used in its new life and sustain its life for a long time. In this context, by giving importance to the functionality of our designs, A Wish We prepared the collection. So much so that there are products of all sizes in 14 products, and we added customizable details to the clothes that we can adapt. The products were brought together regardless of the season. It was aimed for people to decide on the use of the product according to their personal needs. When the usage period is over, we aim to start the recycling processes for the product after the person who bought the product delivers the product to us again, and we aim to end the closed cycle I mentioned in this way.
There is a handicraft in the fine details of each product; embroideries, use of labels, product packaging… We did not want to re-print labels for label use, instead we used leftover pieces of fabric. Instead of using plastic in product packaging or a single-use detail, we embroidered our brand logo on pouch fabrics that can be used many times. My dream was to reach as many people as I could, first myself and then around me, and do something for this world when I set out on this path, so my first collection A Wish We presented it a short time ago. In the background, we continue our research for new products, we will continue to offer upcycled products as soon as they are ready, but I would like to point out that Too Personal aims to be a brand that tries to tell and change something in the way of sustainability. For this reason, I believe that we can establish a collective union with everyone who has prioritized sustainability in their lives. This can be done by donating items as well as supporting the cycle by purchasing items. If there is an unused product for various reasons, we can always be contacted to deliver it.
We know that Too Personal benefits women's employment by highlighting women's labor in production. Can you tell us about the power of women's labor in all these processes?
Since the day I started working for Too Personal, I had in mind to create this brand with the collective power of women. In this context, I started researching and I saw that many of my sexes with amazing talents are ready to achieve amazing things by their own means. When I told about my dream, we first understood each other, and soon they supported us in reaching our goal by giving ideas on this journey. We are now with 5 creative and successful women, apart from myself, with whom I collaborated. My goal is to reach more women and cooperate with women's initiatives. Because as women, I think we can shine and achieve more by supporting each other.
A Wish What was it about the collection and what got you so excited about this project?
I would like to start the answer to this question with a striking fact. The average consumer buys 60% more clothes compared to 2000, but each garment is used for half as long as before, and 40% of the clothes in our closets are never worn. These facts, which I saw during my research before starting the project, made me extremely sad. Therefore, the thing that excites me the most in this project is to offer a second life to our clothes with Too Personal, to give them a new perspective, and to continue the process without harming the environment and by observing ethical values.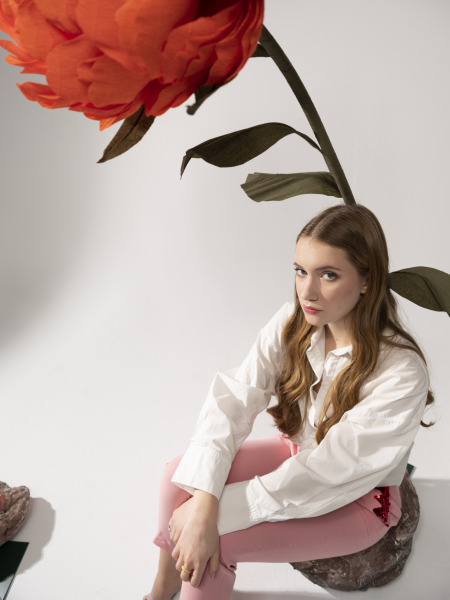 What do you personally do for a sustainable life, what do you pay attention to?
I am one of those who believe that transformation will begin individually. Therefore, first of all, I thought about what I could organize in my own life and what I could pay more attention to. Then I simplified myself, my life, identified products that were suitable for my needs and provided long-term benefits, and turned to their use. I researched, I read, I learned and I continue to learn. I became a climate volunteer, participated in sustainability certificate programs, to tell people how we can make our voices heard for this unique world we live in, and what we can do before we reach the irreversible threshold in resource use.
In my opinion, sustainability means picking up and throwing away the garbage you see on your walk, separating the garbage at home, throwing a cloth bag in your bag when you go out, acquiring the habit of using a thermos, making your kitchen, closet, home, consumptions "Do I really need it?" I believe we can create a collective consciousness by transforming what you have, using it for a long time, and telling the effects of all these to our surroundings, starting with the closest ones.
What are your suggestions for a sustainable, responsible and ethical consumption approach?
First of all, to investigate the background of the process without being deceived by what is stated. Before making purchases, consider the functional benefits rather than the emotional benefits and act accordingly. Preferring local and boutique brands. When purchasing, I can list how long the product can be used, regardless of special circumstances and conditions, as purchasing.
TAGS: TOO PERSONAL, A WISH COLLECTION, ALARA EROL
!function(f,b,e,v,n,t,s)
{if(f.fbq)return;n=f.fbq=function(){n.callMethod?
n.callMethod.apply(n,arguments):n.queue.push(arguments)};
if(!f._fbq)f._fbq=n;n.push=n;n.loaded=!0;n.version='2.0′;
n.queue=[];t=b.createElement(e);t.async=!0;
t.src=v;s=b.getElementsByTagName(e)[0];
s.parentNode.insertBefore(t,s)}(window, document,'script',
'
fbq('init', '1771471336408346');
fbq('track', 'PageView');